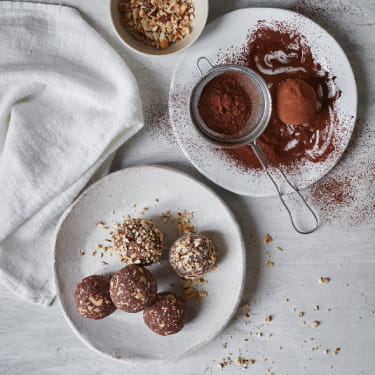 Vitamin power balls
An easy, personalised snack to power you up!
Ingredients
1 tbsp (25g) date paste (made with 15g or approximately 2-3 dates). See Method.
1 sachet Energis chocolate shake
1 tbsp (10g) ground super seed/nut/berry mix (e.g. flax, sunflower, pumpkin, sesame seeds, goji berries available as pre-mixed pack from supermarkets)
1 tbsp (10g) chopped toasted hazelnuts
2 tbsp jumbo oats
½ tsp vanilla extract
Optional:
2 tsp chopped stem ginger, dried sour cherries, raisins or other dried fruit
Coating: cocoa powder, raw cocoa nibs or chopped nuts
Method
Date paste: Finely chop the dates, place in a bowl and barely cover with boiling water. (Very soft dates, e.g. Medjool type dates may need less water.) Place in microwave for 20 seconds. Stir and leave to cool.
Mix all other ingredients in a bowl with a fork; be patient while it comes together to form a thick paste.
Add in the date paste and work together with a fork.
Use two spoons or wet hands to roll the mixture into two balls and leave them as they are or roll them in your choice of coating.
Enjoy immediately or store in the fridge for later!
Nutritional information
| | |
| --- | --- |
| Nutrient | Per 40g |
| Energy kJ | 653kJ |
| - Calories | 155kcal |
| Carbohydrate | 20.32g |
| - Sugar | 12.9g |
| Protein | 6.4g |
| Fat | 5.32g |
| - Saturdated Fat | 0.8g |
| Fibre | 2.1g |
| Sodium | 0.05g |
Other recipes you may be interested in
See all >