Energis Vegetable Soup
If you're feeling tired and need an extra boost of energy, Energis Vegetable Soup contains the perfect mix of vitamins and nutrients to help you recover and improve your health. Enjoy as a lunch or dinner and try using the soup to create different recipes.
10 Sachets
20 Vitamins & Minerals
Calcium and Vitamin D to help support bones
Rich in Vitamins B2, B6, C and Iron to help release energy
Contains Fibre
7g high quality Protein to maintain muscle mass
Gluten free
Buy now
Ideal for
Energis Vegetable Soup is created to help those who need a boost of energy, lack appetite or recovering from poor health. With 20 vitamins and minerals, these energy sachets provide the key nutrients for those recovering from surgery, or simply wish to stay strong and active.
Run down, tired or fatigued

Staying strong and active

Recovering from illness

Caregivers looking after loved ones
Easy preparation
Make Energis Vegetable Soup part of you daily routine to ensure you are getting key nutrients into your diet. Enjoy one sachet a day.
• Pour contents of 1 Energis Vegetable Soup (50g) into a mug.
Add 150ml of warm water  
Stir (with fork), blend or shake vigorously to dissolve
Check out our recipes here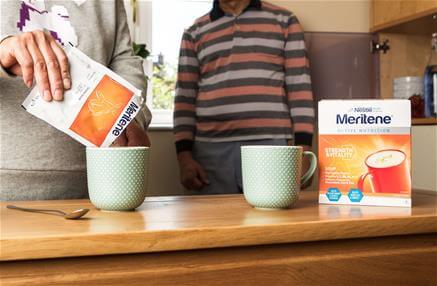 INGREDIENTS
Maltodextrin, vegetable oils (sunflower, rapeseed), skimmed milk powder, milk proteins, vegetables 7.3 % (potato, carrot, tomato, onion, leek), inulin, minerals (calcium citrate, potassium citrate, potassium phosphate, magnesium citrate, ferric pyrophosphate, calcium phosphate, zinc sulphate, sodium selenite), glucose syrup, flavourings (lactose), salt, parsley, stabiliser (E407), sugar, anticaking agents (E450, E339), flavour enhancer (E621, E627, E631), vitamins (C, niacin, pantothenic acid, B6, E, B1, B2, A, folic acid, K, D, B12), paprika, colour (curcumin).
NUTRITIONAL PROFILE
Nutritional Information
Per portion*
RI††

Energy

868 kJ / 207 kcal

-

Fat

7.5 g

-

- of which: saturates

1 g

-

Carbohydrate

26 g

-

- of which: sugars

6 g

-

Fibre

3.7 g

-

Protein

7 g

-

Salt (=Na(g) x 2,5)

1.1 g

-
RI†† = Reference intake
Vitamins and minerals:

Vitamin D

10 µg

200%

Chloride

550 mg

69%

Folid Acid

120 µg

60%

Vitamin B12

1.3 µg

52%

Vitamin K

39 µg

52%

Vitamin B6

0.7 mg

50%

Zinc

4.8 mg

48%

Calcium

360 mg

45%

Pantothenic Acid

2.6 mg

43%

Vitamin B2

0.6 mg

43%

Phosphorus

300 mg

43%

Iron

6 mg

43%

Vitamin B1

0.45 mg

41%

Vitamin A

300 µg

38%

Potassium

700 mg

35%

Niacin

5.5 mg

34%

Vitamin C

25 mg

31%

Selenium

17 µg

31%

Vitamin E

3.6 mg

30%

Magnesium

70 mg

19%
*One portion = 50 g of Meritene + 150ml of water / RI†† = Reference Intake