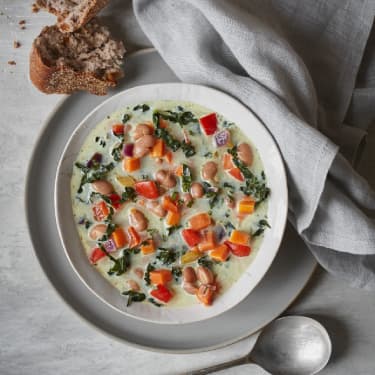 Love your leftovers soup
Great way to increase your intake of vegetables, fibre, protein, vitamins, and minerals while clearing out your fridge! Substitute vegetables listed here for those you have on hand. Great nutrition and no food waste!
Ingredients
1 tbsp olive or vegetable oil
1 small red onion, peeled and chopped
2 cloves garlic, peeled and chopped
1 carrot, peeled and chopped
1 small stick celery, chopped
small red pepper, cubed
1 small tin (265g) chopped tomatoes in juice
250 ml water
200g borlotti beans (or peas), drained and rinced
80g small dark green Savoy or Cavalo Nero cabbage, tough stalks removed and finely cut
Handful (15g) flat leaf parsley, chopped plus garden herbs like oregano, thyme
Dash of ground black pepper
1 pack Energis vegetable soup
150ml hot (not boiling) water
Optional just before serving:
2 tbsp green pesto
Ground black pepper to taste
Method
Heat oil in a medium pan, add onion, garlic, carrot, celery and pepper. Cook gently for 10 minutes over low heat until soft. Stir occasionally.
Add tomatoes and juice, water and borlotti beans (or peas). Stir well and bring to boil.
Turn down heat and simmer uncovered for another 10 minutes.
Add the green vegetables, parsley, herbs and a little pepper. Stir well, cover and simmer for a final 10 minutes until the soup is thick and chunky.
Make a smooth paste with the Energis vegetable soup mix by whisking a little of the 150ml hot (not boiling) water, and then mix it with the rest of the water.
Take the soup off the heat, stir in the Meritene paste.
Taste, adjust with seasoning to your preference. Add a drizzle of pesto to finish if you like.
Nutritional information
| | |
| --- | --- |
| Nutrient | Per 400g |
| Energy kJ | 756kJ |
| - Calories | 194kcal |
| Carbohydrate | 22.4g |
| - Sugar | 10.1g |
| Protein | 7.6g |
| Fat | 6.8g |
| - Saturdated Fat | 1g |
| Fibre | 8.8g |
| Sodium | 0.35g |
Other recipes you may be interested in
See all >