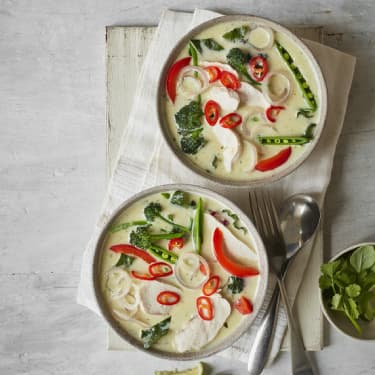 Thai green chicken curry
A tummy-warming nutritious meal with lots of natural goodness!
Ingredients
1 tbsp vegetable oil
1 small onion, or 3 shallots, peeled and chopped
1-2 cloves garlic, peeled and chopped
2 small chicken breasts, thinly sliced
2 tbsp Thai green curry paste; as some brands are very spicy hot, consult the jar
200ml light coconut milk, fat reduced
100g chard with rainbow stems or baby spinach
50g sugar snaps
50g purple spouting broccoli or florets, sliced small
½ small red or yellow pepper, sliced, or 10 cherry tomatoes, halved
1 pack Energis chicken soup
150ml hot (not boiling) water
Handful (20g) of each of coriander and basil, roughly chopped
Juice of ½ lime
Serve with
:
Rice or rice noodles. Brown rice, or noodles made from brown rice are healthier alternatives contributing more fibre to help keep your gut healthy.
Lime wedges and/or red chilli
Method
Heat oil in a medium saucepan, add onion, garlic then chicken breasts. Cook gently, stirring for 5 minutes over low heat.
If using chard, separate the stems from the leaves. Slice the leaves and set aside. Slice the stems thinly and add them to the pan with the onions and garlic.
Add Thai curry paste, cook for 1 minute and then stir in the coconut milk and bring to a simmer.
Add all the prepared vegetables (including chard leaves), stir well, cover and simmer for about 10 minutes until softened. If you are using spinach, add this during the last few minutes of heating.
Make a smooth paste with Energis chicken soup by whisking in a little of the 150ml hot (not boiling) water. Then mix in the remaining water.
Take the Thai curry off the heat, stir in the Energis paste; add the coriander and basil.
Squeeze in the lime juice.
Tip: Add a pinch of turmeric, grated ginger or lemon grass in the curry paste for added benefit including fragrance and flavour. The flavour will especially zing with the lime.
Nutritional information
| | |
| --- | --- |
| Nutrient | Per 425g |
| Energy kJ | 1470kJ |
| - Calories | 350kcal |
| Carbohydrate | 22.5g |
| - Sugar | 10g |
| Protein | 27.2g |
| Fat | 16.15g |
| - Saturdated Fat | 6.4g |
| Fibre | 6.5g |
| Sodium | 1.14g |
Other recipes you may be interested in
See all >