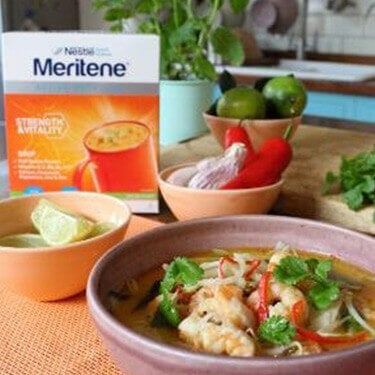 Super seafood soup
By Nadi Sawalha. This soup gives you the nutritional blast you need on a chilly day. A feast for your eyes, and taste buds!
Ingredients
65 g rice noodles
1 fresh red chilli
0.75 litre fish or vegetable stock
60 g creamed coconut
2 sachets Energis vegetable soup powder
4 tbsp lime juice
3-4 kefir lime leaves (optional)
1 tbsp coconut oil
3 cm piece fresh grated ginger
1-2 large cloves garlic, finely chopped
125 g bean sprouts
150 g peeled prawns
Handful chopped basil, roughly chopped
Handful chopped mint, roughly chopped
Handful fresh coriander, roughly chopped
Salt to taste
Method
Cook noodles according to packet instructions. Drain and rinse under cold water. Set aside.
Cut chilli in half, discard seeds and cut into fine strips.
Bring stock to boil; stir in coconut cream until dissolved.
Add lime juice and put saucepan to one side.
Finely chop kefir lime leaves if you're using them. (Go on use them!)
Heat coconut oil in a wok or large saucepan. Stir in chopped ginger and garlic. Fry for a minute.
Add the chopped lime leaves, sliced chilli and bean sprouts. Stir for 1-2 minutes.
Pour in hot vegetable stock; stir in the cooked noodles. Bring mixture to bubbling. Remove pan from heat and stir in prawns. Taste and season. Set aside to cool slightly.
Add contents of 2 sachets of Energis vegetable soup powder into 150 ml of warm water (max 60oC) into a bowl. (Boil your kettle in advance and leave it to cool so that the water is warm, not too hot as it's important not to destroy the nutritional properties of the product). Stir vigorously until completely dissolved then stir into the soup.
Divide the basil and mint between 2 of your loveliest soup bowls.
Add coriander to the soup. Divide the soup between the two bowls, pouring it over the basil and mint. Enjoy!
Nutritional information
| Nutrient | Per 100g |
| --- | --- |
| Energy kJ | 394kJ |
| - Calories | 94kcal |
| Carbohydrate | 6.4g |
| - Sugar | 2g |
| Protein | 4.5g |
| Fat | 5.5g |
| - Saturdated Fat | 3.6g |
| Fibre | 1g |
| Sodium | 0.28g |
Other recipes you may be interested in
See all >