Energis Strawberry Shake
Use Energis Strawberry Shake sachets to help you recover when you're feeling run down or tired. Each shake is packed full of protein plus 19 vitamins and minerals. The perfect mix to create delicious smoothies or use in other recipes.
15 Sachets per pack
9,3g Protein per serving
Zinc and iron to help normal immune system
Calcium and Vitamin D to help support bones
Rich in Vitamins B2, B6, C and Iron to help release energy
107 calories, no added sugar, only natural occurring sugar
Buy now
Ideal for
Meritene shakes are the perfect addition to an adult's daily routine if they suffer from regular weakness, fatigue, lack of appetite or recovering from poor health or surgery. The blend on protein and vitamins provides additional support to your nutritional needs, and are beneficial to anyone who wishes to maintain a strong and active lifestyle.
Run down, tired or fatigued

Staying strong and active

Recovering from illness

Caregivers looking after loved ones
Easy preparation
Meritene Energis shakes can be a great part of your daily routine, with a meal or as a snack, to help get the extra nutrition you may need. Enjoy 1 sachet per day as part of a varied and balanced diet.
Pour contents of 1 Energis Strawberry Shake sachet (30g) into a glass.
200ml of cold water (or milk for those who want additional calories).
Stir (with fork), blend or shake vigorously to dissolve.
Visit our recipe page for more inspiration!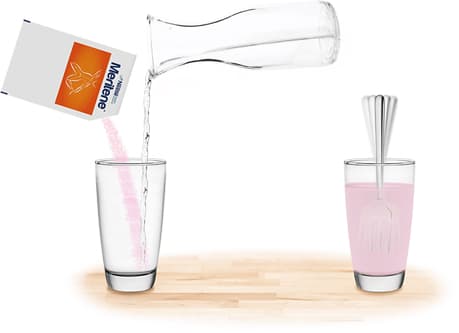 INGREDIENTS
Skimmed milk powder (96%), minerals (magnesium carbonate, zinc gluconate, ferric pyrophosphate, sodium selenite), medium chain triglycerides, colours (betanin, beta carotene), flavourings, vitamins (C, niacin, E, pantothenic acid, B6, B1, A, B2, folic acid, K, D, B12), sweetener (sodium saccharin).
NUTRITIONAL PROFILE
Nutritional Information
Per portion
RI††

Energy

453 kJ / 107 kcal

-

Fat

0.30 g

-

- of which: saturates

0.24 g

-

Carbohydrate

17 g

-

- of which: sugars

15 g

-

Fibre

0 g

-

Protein

9.30 g

-

Salt (=Na(g) x 2,5)

0.30 g

-
RI†† = Reference intake
Vitamins and minerals:

Vitamin D

9.9 µg

198%

Folic acid

120 µg

60%

Vitamin B12

1.4 µg

54%

Vitamin K

39 µg

52%

Vitamin B6

0.72 mg

51%

Zinc

4.8 mg

48%

Phosphorus

297 mg

42%

Vitamin A

330 µg

41%

Calcium

330 mg

41%

Riboflavin

0.54 mg

39%

Niacin

6.0 mg

38%

Thiamin

0.36 mg

33%

Iron

4.5 mg

32%

Vitamin C

25 mg

31%

Selenium

17 µg

31%

Vitamin E

3.6 mg

30%

Pantothenic acid

1.8 mg

30%

Potassium

510 mg

26%

Magnesium

66 mg

18%
*One portion = 30g of Meritene + 200ml of water / RI†† = Reference Intake